Motor Soft Starter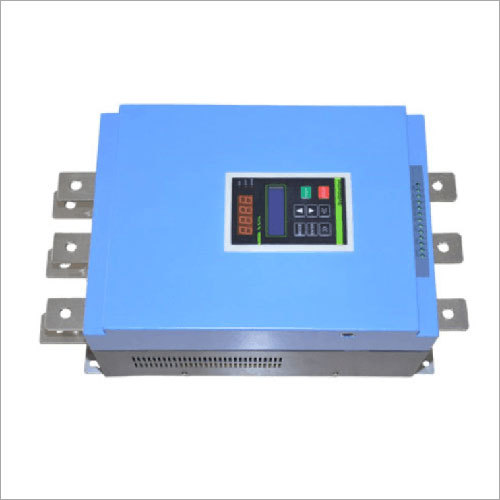 Motor Soft Starter
Price And Quantity
4900.00 - 5500.00 USD ($)
Product Description
Motor Soft Starter is an instrument that starts engines with diminished power provided at start-up. Lessening the power decreases possibly damaging mechanical and electrical shocks on system.
As the name infers, it "begins" engines. Our product can additionally reverse, protet, stop and accelerate them. Regardless of whether it's a small in size fan, or part of mining gear, electric engine are sometimes the main thrust behind them.
An Induction engine can self begin attributable to the transmission between the turning magnetic areas flux and the stator twisting flux, inducing an elevated rotor voltage as torque is expanded. Therefore the stator draws high voltage and when the engine compasses to full speed, a lot of current (more than the appraised voltage) is drawn as well as this can induce warming up of the engine, in the long run harming it. To avert this, engine starters are required.
Our motor soft starter are a blend of a regulator and over-burden insurance.
Regulators
- Changes electric voltage to the engine off and on. A contactor, regulator that is regulated by an electromagnet.
Over-burden Protection
- Secures an engine from drawing an excessive amount of voltage and "wearing out" from extra heating. The over-burden relay is the engine over-burden security utilized as a part of soft starters. It confines the time the over-burden voltage is drawn as well as shields the engine from overheating.
Motor soft starter place an instrument, which is named as a diminished current started or soft starter, between the incoming utility and the motor line to control the measure of current bolstered to the engine. Our product help the induction motor of AC to accelerate in littler, ensuing in less voltage drawn than with a customary engine starter. Because of diminished voltage, torque is additionally lessened bringing about a simple or soft start. Motor soft starters are utilized on a wide range of AC and DC engines. They are most generally utilized with the AC squirrel confine induction engine as a result of its simplicity, reliability and toughness.
The Ways In Which Motors Can Be Started
Using full load voltage at interims of time: Straight On Line Starting
Utilizing diminished current gradually: Soft starter and Star Delta Starter
Applying part twisting starting: Self transformer starter
Why Motor Soft Starters are Required?
To abstain from over-burdening the power circulation system
To dodge pointless tear and wear on instruments by lessening starting torque
SDZ series soft starter parameters:

MODEL

Rated power

(kW)

Rated current

(A)

Compatible circuit breaker(QF)

Compatible bypass contactor(KM)

Cable specification

SDZ23T4

11

23

CM1-63L/32

CJ20-25

6mm2 cable

SDZ30T4

15

30

CM1-63L/40

CJ20-40

10mm2 cable

SDZ37T4

18.5

37

CM1-63L/40

CJ20-40

16mm2 cable

SDZ45T4

22

45

CM1-63L/63

CJ20-63

16mm2 cable

SDZ60T4

30

60

CM1-100L/80

CJ20-63

25mm2 cable

SDZ75T4

37

75

CM1-100L/100

CJ20-100

35mm2 cable

SDZ90T4

45

90

CM1-225L/125

CJ20-100

35mm2 cable

SDZ110T4

55

110

CM1-225L/160

CJ20-160

35mm2 cable

SDZ145T4

75

145

CM1-225L/180

CJ20-160

35mm2 cable

SDZ175T4

90

175

CM1-225L/200

CJ20-250

30*3mm2copper row

SDZ210T4

110

210

CM1-400L/250

CJ20-250

30*3mm2copper row

SDZ250T4

132

250

CM1-400L/315

CJ20-400

30*4mm2copper row

SDZ300T4

160

300

CM1-400L/350

CJ20-400

30*4mm2copper row

SDZ370T4

200

370

CM1-400L/400

CJ20-400

40*4mm2copper row

SDZ470T4

250

470

CM1-630L/630

CJ20-630

40*5mm2copper row

SDZ570T4

315

570

CM1-800H/700

CJ40-800

40*5mm2copper row

SDZ720T4

400

720

CM1-800H/800

CJ40-1000

50*5mm2copper row

SDZ840T4

450

840

CM1-1250/1000

CJ40-1000

50*5mm2copper row