80kv High Voltage Test Instrument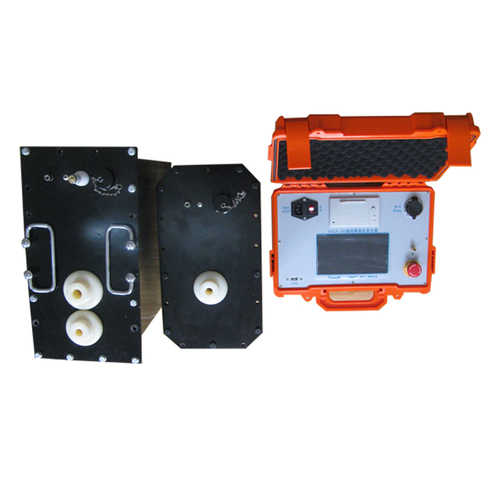 80kv High Voltage Test Instrument
Price And Quantity
4900.00 - 5500.00 USD ($)
Product Description
Backed by the year of industrial experience, our firm is engaged in offering a wide range of 80kv High Voltage Test Instrument. This test instrument is designed for detecting the voltage on electrical systems practically and safely in the rail network, petrochemical, power generation and distribution, electrical service, and maintenance industries. It is widely used by test engineers and electrical power technicians globally as it has a longstanding reputation for accuracy, reliability, and robust construction. 80kv High Voltage Test Instrument is tested thoroughly on various parameters thoroughly to ensure the safety as well as quality of the equipment.

Uses:
Proof testing and diagnostic testing

High voltage breakdown testing

Preventative maintenance testing
80kv High Voltage Test Instrument

Benefits of Sandi VLF

Portable and affordable.
All models feature is true sine wave output.
Wave form is independent of load capacitance between 0.01mF and maximum load.
Highest load ratings available.
Highest voltage models available.
Simple and easy operation.
AC testing does not degrade good cable insulation.
Harmful space charges are not injected into the cable insulation.
No traveling waves are generated during testing.
Rugged and reliable design less prone to failure from transients.
No polarization effects as with DC.
Breakdown detection.
Reporting
Display: The 7 'capacitive touch screen, the screen displays real-time measurement data and the output waveform.
Comprehensive protection: high, low pressure side of the over voltage and over-current protection, rapid response action (action time 10ms).
Small size, light weight: very conducive to outdoor work.
Communication interface: USB2.0.

Supplied Accessories

A dedicated high voltage-voltage connecting cable;
A dedicated low-voltage connecting cable;
A power line;
Ten power fuse;
A discharge stick;
An instruction manual.
Technical Specification:

Model

Output Peak voltage

Measuring range

Weight

Applications

SVLF-30

30KV

0.1Hz, <1.1

Controller: 4 kg

Booster: 25 kg

10KV and below voltage cables,generator

0.05Hz <2.2

0.02Hz <5.5

SVLF-40

40KV

0.1Hz <1.1

Controller: 4 kg

Booster: 45 kg

13.8KV and below voltage cables,generator

0.05Hz <2.2

0.02H <5.5

SVLF-50

50KV

0.1H <1.1

Controller: 4 kg

Booster: 45 kg

15KV and below voltage cables, generator

0.05Hz <2.2

0.02Hz <5.5

SVLF-60

60KV

0.1Hz <1.1

Controller: 4 kg

First Booster:25 kg

Second Booster:45 kg

20KV and below voltage cables, generator

0.05Hz <2.2

0.02Hz <5.5

SVLF- 80

80KV

0.1Hz <1.1

Controller: 4 kg

First Booster:25 kg

Second Booster:45 kg

35KV and below voltage cables, generator

0.05Hz <2.2

0.02Hz <5.5