Solar Pumping Inverter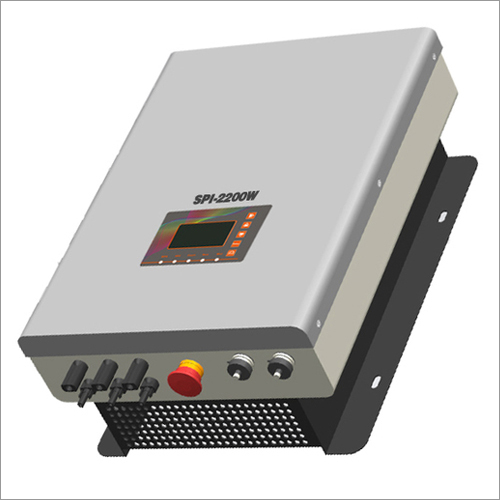 Solar Pumping Inverter
Price And Quantity
4900.00 - 5500.00 USD ($)
Product Description
We have earned the trust of our clients by offering top most quality Solar Pumping Inverter. This inverter is stocked with effective governing system in order to control voltage fluctuations, thus ensuring complete safety. The offered inverter is manufactured by using premium quality components with the use of ultra-modern techniques under the guidance of our adept professionals. Further, this Solar Pumping Inverter can be availed from us in diversified specifications as per the required needs of the clients.
What Is Solar Pumping Inverter?
Our solar pumping inverter system comprises of the specific pump inverter for solar panels, PV and water pump. This equipment generally utilized as a part of residential water, control of desert, water supply for sea places, irrigation water, animal husbandry, water processing projects and many more. Water storage supplants battery as well as specifically drives pumping alongside high unwavering quality, in the meantime, it can decrease handling costs and system cost.

Indispensable Features:

Accepting the proposed active VI-MPPT regulation technique and upgraded SVPWM; quick reaction and balance working as well as the change proficiency accomplishes of 99.6%.
Adopting elevated productivity IPM from Mitsubishi along with dependability and effectiveness.
Intended with changeable recurrence driver, which can be utilized as a part of changeable frequency speed control advancement, enormously enhances effectiveness as well as better to secure water pump and most extreme usage of solar panels.
AC drive work. If there is no daylight, for example, during the evening, our solar pumping inverter can interface with AC city energy to operate by physically in case AC energy is accessible.
LCD screen working panel, can setting different parameters by LCD, simple to work.
Total safety function for PV input below current, input connection back polarity, output, short circuit, overflow, blocking safety, PV input extra voltage, DC extra voltage, over load, dry well and dry running.
Technical Specifications
Model

Adapted pump motor

Max PV input power
(KWP)

MPPT Tracking voltage (V)

Max. DC input voltage (V)

Rated output current(A)

Output frequency
(Hz)

Rated power (kW)

Rated voltage (V)

SPI-750W

0.55-0.75

200-220

1

200-400

500

5

0-60

SPI- 1500W

1.1-1.5

200-220

1.85

200-400

500

7

0-60

SPI-2200W

2.2

200-220

3

200-400

500

11

0-60

SPI-3700W

3-3.7

380-440

4.5

400-650

850

9

0-60

SPI-5500W

4-4.5

380-440

7

400-650

850

13

0-60

SPI-7500W

7.5

380-440

9

400-650

850

18

0-60

SPI-11KW

9.2~11

380-440

13

400-650

850

24

0-60

SPI-15KH

13-15

380-440

18

400-650

850

30

0-60

SPI-18KW

18.5

380-440

22

400-650

850

39

0-60

SPI-22KW

22

380-440

25

400-650

850

45

0-60

SPI-30KW

26-30

380-440

35

400-650

850

60

0-60

SPI-37KW

37

380-440

45

400-650

850

75

0-60

SPI-45KW

40-45

380-440

53

400-650

850

91

0-60

SPI-55KW

55

380-440

65

400-650

850

112

0-60